Dis+Abled European Summer Games Wagrowiec'2023 – About Erasmus+
Teams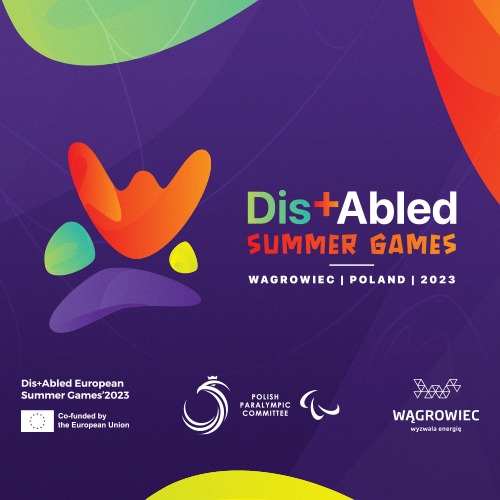 Bulgaria
Croatia
Czech Republic
Denmark
Germany
Hungary
Italy
Netherlands
North Macedonia
Poland
Romania
Serbia
Slovakia
Dis+Abled European Summer Games Wagrowiec'2023 – About Erasmus+
The Polish Paralympic Committee is among the elite beneficiaries of the Erasmus +Sport program co-funded by the European Union – in 2023 it will host the Dis+Abled European Summer Games Wągrowiec 2023.
The event is being organized by the Polish Paralympic Committee from June 17 to 22, 2023 in Wągrowiec. Competitions in many sports disciplines will be held throughout the city. It is the first of its kind in Europe, a non-commercial event in summer sports for disabled athletes. About 500 participants are expected, including about 250 disabled athletes of various ages and sports levels from at least 10 European countries. They will compete in ten summer sports – bocci, sitting volleyball, goalball, swimming, table tennis, bowling, hand cycling (handbike), archery, dragon boat racing and sailing.
Dis+Abled European Summer Games Wągrowiec 2023 is co-financed by EU funds under the Erasmus+ Sport: non-commercial, European sports events program. Winning during the competition is as important here as promoting social integration, inclusion through sports in physical activity and volunteering, acquiring knowledge about sports and strengthening motivation and inspiration to practice it. The outcome of the event will be, among other things, the creation of a network of mutual cooperation between European Paralympic Committees to further strengthen and promote summer para sports in Europe. The sports competition will be enriched with an educational program: a seminar and workshop on "Green Practices" (Ministry of Environment and Climate), "H2O + Adrenaline" (Start Poznań) and "Fair Play" (POLADA).
Contact
Polski Komitet Paralimpijski – Polish Paralympic Committee
ul. Konwiktorska 9 lok. 2, Warszawa
phone.: +48 22 824 08 72
fax.: +48 22 824 08 71